Purchasing for your latest gadget or the newest release from your favorite brand today is far more different if you had to do it several years ago. The process is now mostly automated and would only take a few minutes from your mobile phone or your desktop computer.
Technology has changed the way people shop. Though people still find time to go out and visit a brick and mortar store for their shopping expeditions, many rely on the internet and on their devices to look for and purchase what they want. In fact, around 1.92 billion people worldwide shopped online last year and are projected to climb up to 2.14 billion people by 2021.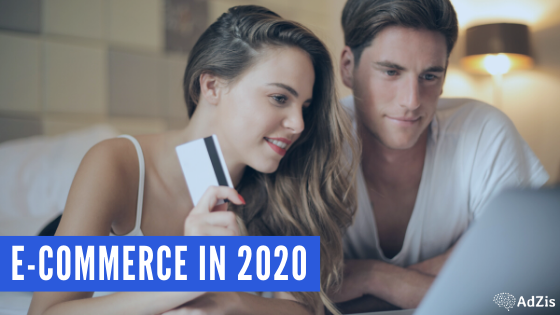 Statistics also show that 62% of online buyers shop at least once a month, while 26% of them shop at least once a week. In 2018, studies showed that there about $2.8 billion made on e-retail sales, and experts are expecting that it will reach $4.8 billion in 2021. The numbers are going fast, and we are bound to see more as the year continues to roll over.
So, what can we expect for eCommerce to happen in 2020? Here are some of the trends we can expect this year.

Trends for E-Commerce This 2020
1. Rise of Voice Shopping
The trend that was started by "Hey Siri and Hey Google" from two tech giants, Apple and Google, that was simply used for the weather forecast, reminders, and other basic queries have gone a long way now. Voice search has become one of the growing trends in the tech industry these days.
Likewise, voice-activated smart speakers are now making waves in the market, and other voice assistants like Amazon's Alexa have become a household thing. Voice search devices have affected the way people shop. According to statistics, over 175 million people own a smart home across the planet, and around 55% of them will do their shopping with the help of these voice assistants.
2. Social Media Will Still Matter
The role of social media in eCommerce has always been unique. It is one of the best avenues to grow your eCommerce brand. There are about 71% of small-to-mid businesses found on different social media platforms. According to Sprout Social, the average spend on advertising in social media will rise to 102% billion by this year. This data proves that many business owners, startup companies, and even large corporations still trust social media to make a big difference in their brand.
These businesses have no reason to falter with their use of social media after all, as it now boasts of a massive 3.8 billion users, which comprises 49% of the world's population. These numbers should give you more reason to leverage on these channels. With the enormous amount of audience, many eCommerce companies, including yours, will still benefit from these to widen the reach, increase online presence, and augment the sales revenue.
Social Media has also given birth to many online advertising trends that have changed the digital marketing landscape. Some of these features, which will continue to dominate, including live video streaming, which encourages two-way communication between you and your audience. It also through the use of stories that only have a 24-hour span that sparks interest among your audience, interactive content that promotes engagement, and a lot more. To note, one of these social media trends that have a direct effect on the way people shop is the innovation of shoppable posts or the so-called social eCommerce.
3. The Emergence of Social eCommerce
For the longest time, it has been a dream for many marketers and eCommerce owners to have a way for people to shop in social media and to trim down the sales funnel. This dream came true when social media powerhouse, Instagram, launched Shoppable Posts a few years back.
As the world move on to the rest of the year, it is expected that this trend will grow bigger and continue to explode as more and more brands will adopt this feature. Instagram has even made a recent update where customers can now complete their online shopping without even leaving the platform.
4. Growth of Mobile Shopping
About 3.5 billion people in the world own a smartphone. Some have even wholly ditched their desktop computers and laptops for their mobile phones. Mobile technology is continually growing and has changed the way people do their activities online.
Ecommerce has dramatically evolved because of mobile phones. A growing number of people now do their shopping on their phones and other mobile devices. Online shopping features like Instagram's shoppable post, which is also expected to expand in the coming years, will surely draw more users to rely on their devices entirely. Sales through a mobile device are even likely to rise to 73% by 2021.
5. Chatbots Will Be The Future
Gone are the days of product-centered advertisement. These days, growing a business online means you think about your customer every single time. There should not be any wasted minutes when they throw queries or concerns in your inbox.
Luckily these days, many technological advancements are available to make sure that these will be addressed in an instant. Chatbots are AI-powered software that can emulate a conversation with your audience at any given time. Businesses are already leaning on this, and it is perceived by experts to be the future of customer experience.
6. Video Marketing Will Continue To Dominate
Videos have always drawn people to watch. One of the social media's powerhouses that is a video content platform, YouTube, has an average of 2 billion logged-in visitors per month. It even comes second after its parent, Google, from being the most visited website on the internet.
According to experts, 62% of customers will check on a video of a particular product before deciding to make a purchase. It has been of the most influential factor in the decision-making process of customers, and it will not stop any time soon. The use of video in your content will not only increase your reach, but it will also initiate conversion between your followers. As more people talk about you, the more chances of increasing your online visibility and credibility.
If you have not to dwell on yet on using video marketing on your online marketing strategies, now is the time to do so before you get left far behind.
7. Still The Year Of Personalization
Many consider 2019 as the year of personalization, and though it may ring true, the same thought will spill over this year and even for the coming years. Personalization will always matter in the eCommerce industry.
Personalized customer experience will still be one of the driving forces of your eCommerce business and will always be one of the most excellent tools to achieve success. Your marketing strategies should have personalized content across your digital marketing channels like email and social media. Failing to do personalization is like giving chances to your competitors to be ahead of you this year.
Final Thoughts
The growth of technology will always continue. Innovations and trends, especially in the eCommerce industry, will still emerge now and then. Learning about these latest trends can always give you an advantage on how to ace your game. Evolve together with technology. Be quick to adopt changes that you will suite your business and can make a significant impact on your success.
AUTHOR BIO
RAMON FRANCISCO:
Ramon has been writing about technology trends, entertainment, and gaming ever since he left the busy world of corporate HR Tech behind. He currently writes about software and user experiences for Softvire Australia – the leading software e-Commerce company in Australia and Softvire New Zealand. In his spare time, Ramon writes science fiction, collects little yellow men and plastic spaceships.