Social Media Marketing in simple terms is the marketing of your company's products or brand through Social Media. There are various social media channels like Facebook, Instagram, LinkedIn, Twitter, Pinterest, etc.
The main motive of companies or firms is to connect with customers, increase awareness of their brands, and make profits from these social media sites. This is possible by following a proper marketing strategy.
That's called Social Media Marketing Strategy.
Any work is done systematically, strategically and with proper planning, will always yield better results than unplanned work.
Your company's product may be excellent, even it is brand may be good, but if you are not able to market the brand or product properly, the product will be a failure. In order to market it, specifically on Social Media, firstly you need to know your target audience and you need to select which Social Media Site will help you to market it as per your requirements.
If you are unclear about your goals, your audience needs, and likes, and you keep on posting on social media for the sake of posting then you will not get the desired results as expected.
In this tech-savvy world of today, whether it is a small firm or a large corporate, social media plays a very important role in our lives.
% of Social Media Users and the Time spent by them on a Daily Basis
As per the report, you will be zapped at the % of social media users.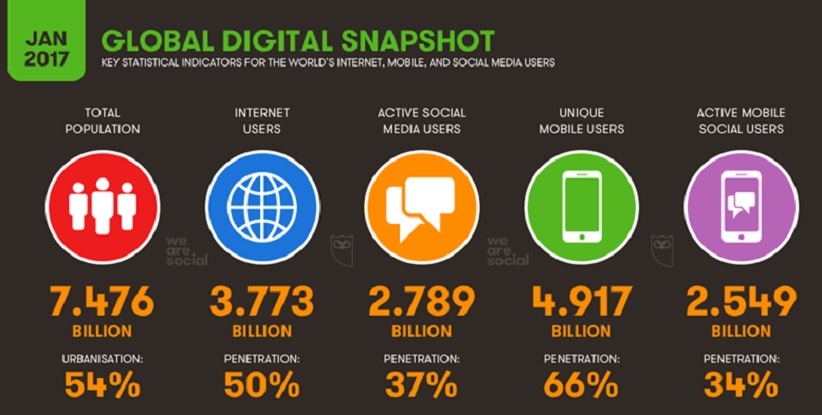 There are 3.77 billion global internet users, of which over 2.8 billion are active social media users. Imagine the power of social media and its penetration in the market.
According to the 2018 report from Global Web Index, on average, social media users spend 2 hours and 22 minutes online each day globally. Young people (16-24 years old) tend to spend approximately 3 hours a day on social media. The below graph as per the study on social media spread shows a very clear picture of the daily time spent on social media.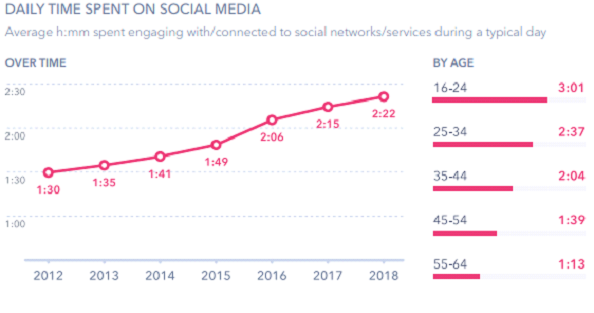 Since the market of Social Media so huge, companies wonder as to how to utilize this market to promote their brand and products?
The 2 basic questions are: How to build a strong social media marketing strategy? How to make it a success?
Successful Social Media Marketing: A few Tips
1. Customer Connect – Your Motto:
Your main aim should be to connect with your customers. Choose your target audience; understand their needs and requirements and fulfill them as per their satisfaction.
Take extra care of their complaints, if there are any, and revert back as soon as possible on such matters. This will prevent them from posting anything negative on social media, and your prompt revert will give them a positive impression about the company.
Such positivity will enable them to be more than happy to share your company's products amongst their friends and relatives which would give positive results for your business.
2. Increase your Brand Value and Brand Awareness:
Branding makes you recognizable. A logo is the most essential part of branding. The brand also represents a company, its products, its ethics, its rules, and its vision, and so on. The list is countless. In short, branding is the face of the company. It helps customers distinguish your company from competitors.
Having a strong brand strategy will help you to communicate with your customers, even in a better way.
Tips on how to create a Strong Brand Value:
Customer Recognition: Build up an emotional connection with the customers by providing them exemplary customer service; thus giving strength to your brand.
Competitive Edge: When more and more customers recognize your brand and talk about it, it gives a competitive edge to your company.
Positive Relationships: Effective follow-up begins immediately after a sale when you call the customer to say "Thank you" and find out if he or she is pleased with your product or service. These are long term positive relationships between customer and company which promote your brand.
Loyalty: Be loyal and honest with your customers. If a fraudulent product is delivered by mistake, admit it and say "Sorry". Instantly replace it and make the customer feel happy and satisfied.
Value for money: Never cheat your customers. Give the value for money by identifying their needs, utility, assisting them, and giving them promotional or monetary benefits.
Create trust: Build brand trust by giving authentic products and genuine information about your company to your customers. Invest in valuable clients making them intangible assets for your company.
3. Select an Appropriate Social Media Channel: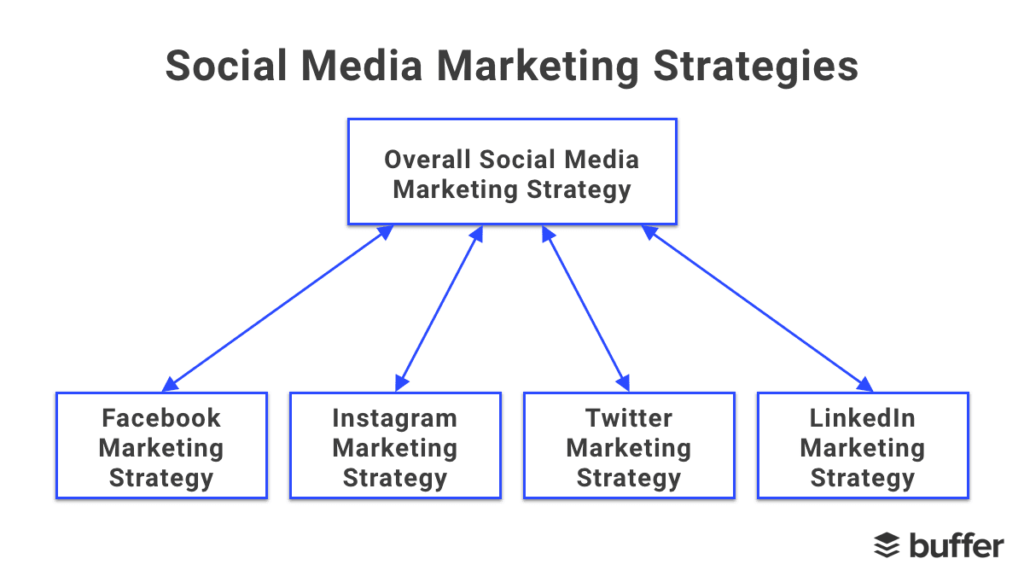 Source: https://buffer.com/library/wp-content/uploads/2019/01/social-media-marketing-strategies.png
As per the above image, different social media channels have different marketing strategies. You need to determine the purpose of each social media channel and then post accordingly.
Go through the usage statistics of each media channel, re-confirm your requirements, select your target audience, and wisely choose the right platform.
As per a study on Facebook, have a view below at the social media usage of different channels.
And now have a view at the most used social media platform for marketers as per Social Media Marketing Industry statistics
The average CTR (Click-Through-Rate) in Facebook ads is 90%.

4. Inspect Social Media Platforms:
Study what works the best, for which platform and then strategize your marketing plan. A few illustrations are given below:
1. Facebook – Video Content works well on Facebook. If you want to keep your content light and appealing, FB is good.
2. Twitter – Twitter is more of a news platform. Promote your tweets on Twitter and don't forget to use proper hashtags.
3. Instagram – Free Instagram tools are available which can be of use for marketing purposes. Keep in touch with followers to enhance growth. Creativity and proper hashtags will serve your purpose.
4. LinkedIn – A very professional network. Your company's articles and to-the-point information will be a success in this media channel.
5. Pinterest – Visuals and Contents both work on this media channel. Attractive Boards with a visual appeal and interesting relevant content will do wonders.
6. YouTube – YouTube interacts with other media platforms. It's powerful because of its Online Video Marketing. This builds up trust because the customer feels connected instantly through video as compared to any written media channels.
5. The Three Sharing "W"s – What, When and Where:
What to share? Focus on the content, as to what you are to going to share with your customers? Be specific about your content whether it is an image, text write-up, single or multiple product promotions, etc. For e.g. Nike Inc. uses a mix of athletic footwear and apparel to promote its products.
When to share? Timing is important because the best time to share is when the majority of the public sees the post. Analyze the best time by keeping a track prior to posting or marketing your product. E.g. People mostly check their mobiles in the morning after they wake up, at lunchtime and in the evening, when they return home.
Where to share? This depends on which media channel you select as per your requirement. Analyze which platform does your target audience visits the most and choose accordingly. For e.g. Nike chooses Facebook and Instagram for promotions.
6. Social Media Research:
According to Jeff Bullas, "The more you know about your customers, the easier it becomes to create content that caters to their specific needs." The statement is so perfect.
Understand the customer's needs, fulfill their expectations, and make your social media marketing success. Always cater to their needs and request and rule the media channel.
7. Paid vs. Organic Social Media:
Social Media can help you to flourish your business in a budget-friendly way. Of course, that would require a lot of time, hard work, and patience.
Paid Social Media Marketing is always better for increasing brand awareness and acquiring customers.
In Organic Social Media Marketing customers will approach you when they see your free posting. If you are running out of budget, this marketing becomes more affordable.
8. Set SMART Goals; Improve ROI:

SMART Goals lead to Success. Be Specific in your goals, Measure your objectives to achieve your goal.
Don't hide anything from your customers. Maintaining transparency is the key to a long-lasting relation. Attain your goals step by step.
Be Realistic. Be honest with your team and clients. Unrealistic goals will lead to failure. Always go by deadlines. Train your staff to follow deadlines strictly, be it customer feedback or customer complaint.
Following the SMART criteria, will show a positive change in ROI.
9. Analyze Your Competitors on Social Media:
After identifying your competitors, gather their data, analyze their activities, create alerts, watch their trends and time of posting content, their platforms, and also their positive or negative comments on your products.
Hear what they have to say about you so you can improve your strategy accordingly.
10. Customer Service – A Priority:
"Good customer service costs less than bad customer service." – Sally Gronow.
Closeness with clients increases if you listen to their complaints and resolve their problems on priority.
Any customer complaints on any media platforms should be resolved within 24 hours.
Ensure that you empathize with the customer, giving him a positive vibe about your company.
If the issue is big and can't be resolved within 24 hours, talk on personalized email or messaging instead of public platforms.
11. Generate Leads and Boost Sales:
Promoting and Sharing your products on your selected media platform with appropriate content will help generate positive leads thus increasing sales. Running contests, using media advertising, Pay Per Click ads, posting live videos, and engaging in social selling are some factors that will help you generate leads.
12. Revise your strategy regularly:
Perform regular audits on your content likes, platform views, customer feedbacks, campaign success, etc. This will enable you to revise the strategy if a certain sphere is not working as expected.
Conduct regular surveys; send emails to clients asking for suggestions, implement required changes, and make your marketing strategy a success.
Creating a successful social media marketing plan from start to end is very exciting.
There are many social media marketing agencies like Lyfe Marketing, Sachs Marketing Group, Viral Nation, MaxAudience, etc. who can help and guide you to plan a proper marketing strategy for your firm.
Goal + Plan + Implement + Market = Success
Businesses today generate a lot of sales through social media marketing. Content on these social media sites is the major reason for this. But content without proper keywords or quality cannot provide returns.

However, with AdZis you can generate social posts with proper SEO and expert revision. This will push your social media page and sales to higher levels.
Author Bio:
Dhaval Jogi is a digital marketing director at FTI Technologies. He is responsible for creating a marketing strategy that brings valuable achievement in the context of overall business success. Besides digital marketing, he loves to contribute industrious efforts to make web presence of the company in a visible and clear manner. Follow us on Twitter, Facebook, or LinkedIn.