One of the most important digital growths in the last few years is that of eCommerce. It is seen as one of the most popular ways in which people will shop, with 2021 expected to see close to $4.5 trillion spent on eCommerce alone. With that in mind, there isn't a better time to invest in eCommerce than now, so go for it.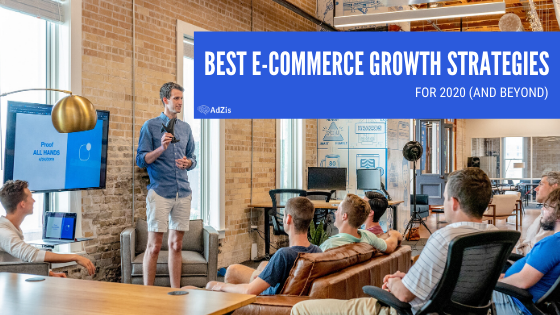 Growing an eCommerce business requires a bit of knowledge on how the format works and how you can use it to your advantage. Just like any other business, eCommerce requires a strong understanding of your sales channels, reward programs, smart marketing, and advertising, and more to help you get on the right track.
Here are some of the best eCommerce growth strategies to guarantee success
1. Expand your sales channels – Omnichannel marketing
Omnichannel marketing is one of the most popular tactics that a lot of marketers use to gain traction online. It allows you to smartly integrate a multitude of methods to help customers enjoy an integrated and seamless shopping experience. Right from the first touchpoint down to the last, the customer will be able to enjoy a unified messaging, brand, and voice for your company.
Omnichannel marketing is a great way to increase your sales channels as you can engage with a customer at different points in the funnel. Right from their first touchpoint on the search engine, to when they enter a brick-and-mortar store (if your business has one), omnichannel marketing works to your benefit.
It allows for better data analysis and collection, easier customer segmentation and campaign designs, better brand visibility across all formats, good synergy across channels and department, and best of all, it's cost-effective. Ultimately, with eCommerce, it helps in gaining better ROI.
2. Enable product reviews
Product reviews are one of the best ways for potential customers to know the credibility of a product purchased. It allows newer customers to know more about your brand through the lens of another user and there's no better way to market than through word-of-mouth.
If you're confident about the quality of the product you're serving, then enabling product reviews is one of the best ways to ensure constant success for any new customers arriving at your website and taking a look at the various products available.
Product reviews also give you an idea about where you're lagging and how you can get better. Overall, it's a great strategy on eCommerce because it shows potential customers that you are a reliable brand which they can purchase from, while also giving you the validation that you are on the right track.
3. Create a loyalty program
Loyalty programs are another way to ensure long-term success for those customers that use your products often. If you have recurring customers, that is a great sign that they love your brand and are willing to engage with you on a regular basis.
Creating a loyalty program for these customers becomes important because then you can keep them on-board for longer. Creating a system where they get rewarded the more they buy means they would love to continue their transactions in return for gifts, discounts, and any other prizes you're giving away.
Providing special customers with sneak peeks into new releases, giving them special access to certain products and social media validation are just some of the ways you can ensure their loyalty. Try out different reward systems and you'll find one that sticks.
4. Improve the cart and checkout experience
The cart and checkout experiences are one of the most important parts of any eCommerce company. When a new customer arrives at the website with the intention to purchase, they need to be able to conveniently navigate the store and head over to the exit.
With the help of some great tools and tweaks, you can facilitate a smoother checkout experience for any customer. By allowing them to smartly head over to the exit after they've selected their products, you're increasing your chances of a purchase. Ensure that there is less load during the process because each second lost is a loss of money in the digital sphere.
5. Deliver value prior to purchase
Every part of the customer's journey is crucial in ensuring success for an eCommerce company. Right from the awareness stage, through the consideration and then the purchase, customers need to be delivered value at all points.
During the awareness stage, you need to create a fun and interactive experience where you address a customer's need. By having a set of ads or marketing ploys that play into their requirements during this stage of the program, you're essentially preparing yourself to take on their requirements if they arise.
It's important that a customer feels secure when they interact with your brand and any smart advertising plays prior to purchase always ensure you're at the back of the mind of a customer.
6. Create great content
Content is king and always will be. Especially when it comes to eCommerce growth strategies, you should always aim at creating exciting content. This is because, in essence, the content you put out on your company's pages is one of the main ways in which customers will look at you as a brand. If you're a brand that creates exciting content, then the customer will be able to correlate you to a certain emotion.
Good content does the advertising for you and allows you to stay relevant for longer. It's always a good idea to take some time out and develop newer methods with which you can grow your brand online. By creating a wonderful brand book, you can always refer back and ensure that your ideas are standing out, while the content is centered around certain pillars you want your brand to be identified with.
7. Explore Paid Advertising
Paid ads are another great way to ensure your popularity in eCommerce is always on a high. By delving into different methods with which you can reach out to larger audiences, you're ensuring there are different channels with which your brand can be recognized.
There are plenty of similar brands and eCommerce is seeing a massive surge. During this time, standing out becomes important and that is why paid advertising becomes all the more important. By working on smarter methods to get people to view your advertisements, you're essentially speeding up the process to get their attention and effectively sell better to them.
8. Use Influencer Marketing
Influencer marketing is one term that has gained a lot of popularity over the last decade and is one of the cornerstones of eCommerce growth strategies. With platforms such as Instagram and YouTube acting as amazing platforms to reach out to larger audiences, influencers use their considerable clout to stand out from the rest.
With the help of a good influencer, you can tie your brand back to facets of their personality or work. This allows you to not just reach out to their massive fan base, but also be seen as a brand synonymous with the kind of qualities they possess. Eventually, when a person sees your brand, along with the face of an influencer, they can quickly draw the parallels between the two, giving them the conviction to go forth and purchase.
9. Set up recurring orders
One of the second parts to have for customers with loyalty programs is to set up a smart recurring order program. Whenever a customer purchases from your eCommerce store often, they need to be able to do so sooner. If they're purchasing a set of items that are common throughout their purchasing map, you can set up recurring orders so they can complete them sooner.
This makes it easier for them to click on a few buttons and complete their purchase, so you can ensure faster checkouts and money into your account as well.
10. Use Email Marketing
Despite all of the various new innovations in the field of eCommerce marketing, Emailers are still preferred as one of the best ways to stand out from the rest. They have a wonderful ROI, better reachability, and can be customized according to your individual needs as well.
Using email marketing to your brand's benefit ensures that you can always reach out to customers conveniently. If they prefer receiving content from your brand via email, then you can set up an automated system that reaches out to them every few weeks or months and guarantees a purchase. You can club it with your loyalty program and see better returns.
Conclusion
Thus, there are plenty of different ways in which you can set up an effective eCommerce growth strategy for your customers. Ensure that you're working with different models and methods to stand out because ultimately it's a mix of all that works.
Don't hesitate to work with tried-and-tested methods such as email marketing and experimenting with influencer marketing and the likes. Once you create a strong eCommerce strategy, you'll soon see the revenue coming in faster than ever!
Guest Post by AdNabu
AdNabu helps improve sales in Google Ads for eCommerce companies. If you are running the search, shopping, or display campaigns in Google Ads, Their software will be able to increase your sales. Sign up today for a 14-day free trial from here.