If you have already taken the step of creating your online store, you have to know that not everything is based on the positioning of your keywords and the prices of your products.
There are many strategies that can help you position your business, get more traffic, and with it, the possibility of more sales.
One of those strategies is to create a blog.
Today, we are talking about the benefits of a blog for an online store.
A blog can benefit your online store in a wide variety of aspects and for this reason, today we bring you some of the fundamental reasons for you to launch into the world of blogging if you already have an online store.
Before diving headlong into the benefits of a blog for an online store, let's start with the basics.
"A blog is a web page that is structured in articles, also called posts, that are periodically updated and usually deal with a specific topic"
However, creating a blog is not just writing content and that's it. You must plan the content of it, how often you are going to update it, in what tone you are going to write, what topics it is going to deal with.
It is best to create an editorial calendar before you start and organize all the content that you are going to create.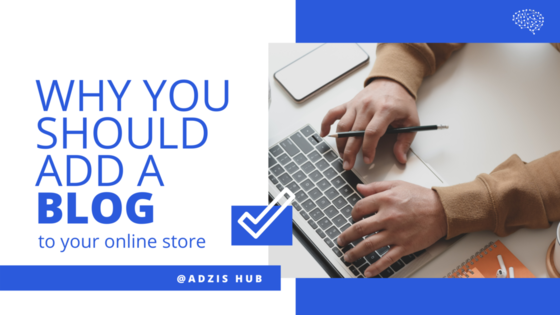 Benefits of a blog for an online store
We are going to talk about the benefits of a blog for an online store. We will take an example like eWorldTrade, one of the largest B2B e-commerce marketplaces which continue to reach out to its customers using its on-site blog.
Humanize your brand and give customers confidence: When a customer comes to your page for the first time, they still do not trust you, therefore, a blog with content in which you talk about your products, how to use them, their benefits, who you are in your business… helps create an image you can trust.
Today, a large number of purchases are still made in physical stores, therefore, it is very important that we get the customer to trust our online store.
Improve SEO positioning: SEO positioning is one of the main tools for your clients to find you. However, it is often counterproductive to saturate product pages with explanatory texts and images.
You can refer all this content to the blog, where you can also work on long tails (longer keywords that position better) more specifically in each of the articles.
For example, if you have a hairdresser you cannot explain within each dye how to apply it and how to take care of it, however, you can create an article on your blog about how to apply each of the brands of dye that you market.
Increase traffic to your website: This point is closely related to the previous point since having a blog allows us to position long tails, which otherwise we would not have had on our website.
Thus, we manage to capture all the traffic of that keyword, which we would have otherwise lost.
Quality content for your social networks: One of the main points to succeed in social networks is to share quality content, as we tell you in our article to improve marketing on social networks.
If you produce this content yourself, you will not have to share it from other external sources.
It competes with more than just prices: Normally online stores compete with each other with the prices of the products and at most with the shipping costs. But with a blog, you can add one more value proposition to your store.
You offer advice and additional information about your products, which can help a customer decide on your store over another.
Get links to your products and calls to action: In the blog of your online store, you must offer truthful information, to generate trust, but nothing prevents you from using it as a commercial platform at the same time.
Include links to your products and keywords when you talk about them, and design call-to-action buttons so your users know where to go.
These are the main benefits of a blog for an online store. However, all of them can turn into negative repercussions if you don't take care of the content or if you leave it unattended.
Therefore, it is very important that you update it regularly, answer the comments and create quality content.
Blog posts educate the reader about what you are selling. They are considered to be a friendly interaction with your community.
Admittedly, sales announcements are always effective, but they are often found far too intrusive, especially when they come at the wrong time. This is why we prefer to proceed differently by sending articles which can also lead them to see the products you want to sell.
You can therefore approach your targets from a different angle to increase your chances of making a sale. To do this, you need to generate interest, desire, and action in your blog posts.
Professional bloggers advise you in particular to address issues to which your products can be the solution if you do not have ideas for articles to put in your blog.
In addition, on your e-commerce site, you are limited to the description of the product as well as images.
A blog post allows you more than that, to use the power of storytelling to persuade the Internet user.
If you are interested in setting up your blog, it's important for you to make sure that you evaluate the quality of your content.
If you are not able to post consistent quality content, your blog ratings are going to suffer and your eCommerce store is going to tank as well.
Of course, having a blog will dramatically increase your rankings and will make it easy for you to grow your eCommerce store quickly. It's a fantastic option for growing businesses that are looking to establish a foothold in a rapidly growing and competitive market.
Author Bio:

Christina Antony is a marketing manager for eWorldTrade.com, one of the leading B2B Marketplaces from the United States.
eWorldTrade helps connect millions of buyers and suppliers around the world with its digital trading platform.
Now, you can generate blog posts for your online store with the click of a button!

Visit Now: https://app.adzis.com/start/