The technology has advanced by manifolds which have made e-commerce immensely popular in the contemporary era for which various platforms, web tools, are used in the development of an e-commerce website. WordPress is one of the prominent tools available that is used by professional development firms to create an effective WordPress website design.
WordPress And WooCommerce Are Interlinked!
Furthermore, there are a host of e-commerce platforms that are used for selling different types of products in WordPress. One of the best e-commerce platforms used is Woocommerce Commerce which gives you the flexibility of selling both physical and downloadable products to your users.
Furthermore, WordPress owners opt for this platform because of its robust feature that helps them to run their online business smoothly that helps them run their online business without any issues. Therefore, Woo-commerce has become quite popular in the world of online business.
In recent years, there have been multifarious developments in the field of digital solutions for eCommerce which have led to the development of innumerable plugins.
Optinmonster
OptinMonster is considered to be one of the most effective conversion optimization software available which helps you to decrease the bounce rate and convert your website visitors into subscribers and customers. Also, it can be used on the e-commerce website to enhance sales conversion, grow your email list, and much more. This conversion optimization toolkit is a must if you want to boost sales and grow your email list.
YITH WooCommerce
This plugin is quite user-friendly and allows customers to save products to their wishlist which can be used later on or can be shared with their family and acquaintances. If you are a shopaholic then you on the right platform as it is a perfect add-on for such people.
WooCommerce Multilingual
There are a plethora of Woocommerce stores that are being created in multiple languages. WooCommerce Multilingual plugin adds the compatibility layer which helps you to translate your product easily in multilingual languages. Therefore, this will help the customers to search for the product in the language of their own choice.
WooCommerce Customizer
WooCommerce Customizer is highly convenient to use which offers you a user-interface to use built-in WooCommerce platforms which allows you to customize things such as button text, labels, and so on. Generally, the PHP code is required to use these filters. However, this is not the case with WooCommerce customizer, one can simply use a plethora of filters from the settings page.
WooCommerce EU VAT Compliance
It is a simple plugin that makes use of WooCommerce shop compliant and updates you about the latest EU VAT. Further, it also detects the customer's location automatically and displays accurate prices with correct VATIt will automatically detect your customer's location and will display prices with correct VAT from the initial page.
Order Delivery Date For WooCommerce
This plugin helps the users to choose an appropriate delivery date during the checkout. Besides this, the online store owners can track the possible delivery date on their order page in the admin area.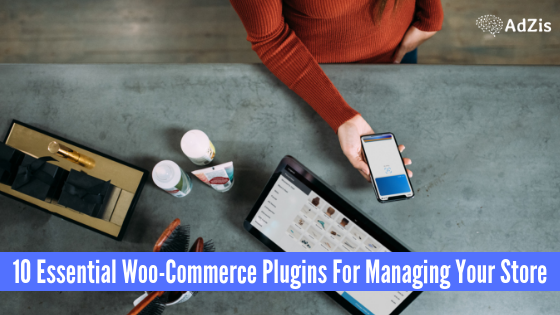 YITH WooCommerce Quick View
It is a useful plugin for the customers who want to get information about the product instantly without leaving the page of product listings. This plugin enables the customer to peep into the products available at the online store by simply taking their mouse over the button. WooCommerce Quick View allows your customers to peek into product details by simply taking their mouse over a button which will give you an enlarged view of the product and description of the product with reviews of the customers.
WooCommerce PDF Invoices And Pay Slips
This plugin allows you to send PDF invoices, packing slips, and their updates to customers via email which can be downloaded from their account area. The admin of the site can also generate invoices you can also bulk generate invoices, email them to users on their own.
WooCommerce Menu Bar Chart
Generally, the theme of WooCommerce has a cart button on it. However, if your site doesn't have a cart button or you didn't like its placement than this plugin will definitely solve your problem. Cart Button can be added to the WordPress navigation menu which will be quite convenient for the customers.
YITH Woocommerce Ajax Search
Speed of the website is of paramount importance for online stores as delay in loading time may increase the bounce rate and cart abandonment. YITH WooCommerce Ajax Search provides users with a powerful search feature that instantly displays products while the user is typing on the navigation menu.
WooCommerce Field Editor Checklist
Are you looking for how to add custom fields to the checkout page? Don't worry! WooCommerce offers you a plugin that allows you to easily add, customize, and re-arrange various fields on the checkout page.
WooCommerce Gift Cards
Gift cards are an interesting feature of WooCommerce which keeps your customers excited and elated as with the help of gift cards you are able to give them to your friends and family who can further apply for the gift card when shopping from your online store. Isn't it interesting? Customers are able to buy a gift card of different amounts which can also be sold by the store as virtual products.
WooCommerce Products Filter
This plugin allows the customers to filter products by categories, attributes, product tags, products, the price which can be added as a shortcut on your webpage.
The Crux Of The Above
The customers of WordPress look for the right WooCommerce plugins that can keep their WordPress site effectively running which is really overwhelming for customers. The WordPress customer service should ensure that WordPress site has special WooCommerce plugins as the plugins provided by WooCommerce are considered to be versatile ones.
Moreover, the Woocommerce plugin is extendable which makes it more convenient for the store owner to use. Since WooCommerce is developer-friendly so, it is easy for the owner to add any type of functions to the code. Thus, WooCommerce plugins are essential to boost the sales of your product.
Author Bio:
Ravi Sharma is a web developer, a web designer, and a diligent owner of a company named Webomaze, with over a decade of experience. He has managed to make his company climb the ladder of success through determination, hard work, and enthusiasm. He has a great knack of WordPress website design generation which can enhance the growth of any business through an impactful website. Apart from this, he is a nature lover and loves to explore various parts of the world as he is passionate about traveling.