If you are an e-commerce entrepreneur, you might think that all you need is the internet and a mobile phone to kick-off your business. However, as your business grows, it becomes quite critical to have a dedicated space where you can conduct your daily activities effectively.
Whether you're thinking of setting up a home office or obtaining small office space, there are several ways to ensure that it is designed to allow you to work productively. Here are some things to keep in mind when setting up your workplace.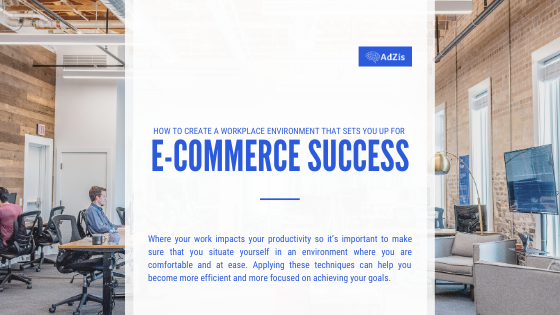 Set-up a Comfortable Workstation
Having a work corner may seem old-fashioned especially with offices like Google and AirBnB allowing their employees to work from tents, couches, and even pods. Having a separate workstation where your desk and chair are setups will not only help you become productive but also prevent you from experiencing work-related physical discomfort.
Ergonomically designed desk and chair
Make sure that the desk is suitable for your height so that your computer monitor is eye level with you. Your chair of choice should be comfortable and must be able to support your back when working in front of the computer. Avoid working on a bed or using uncomfortable furniture as this can hurt your back and affect your health negatively.
Proper lighting and temperature
It is important for the space to be well lighted and have the right temperature. You wouldn't want to be sweating or freezing while you go about your tasks! This is often a problem when entrepreneurs convert their garage space or an old storage room into an office because they tend to forget about properly lighting or ventilating the space.
Choose an area near a window that can let natural light inside, or if this is not possible, make sure that your space has enough light for you to be comfortable. Depending on where you live, make sure that the space is also well-ventilated or that you can adjust the temperature as the weather changes.
Access to a break area  
When you're working alone or with a small team, it is easier to just work straight without taking a break because you control your own schedule. However, instead of being more efficient, this practice can actually lessen your productivity.
Make sure to take short breaks in between your work by having a small area where you can prepare coffee or have some snacks. This area does not need to be big, as long as it can serve its purpose. Studies have shown that micro-breaks such as office coffee breaks can actually boost productivity.  Having your own coffee machine can also be more cost-effective and time-efficient than running to the coffee shop and getting a cup.
Away from distractions
Devote that space only for your work so you can focus without any disruptions. If you have a home office, find a small space in your house to set up your desk where you will not get easily interrupted or distracted. This will help you become more productive and not be tempted to take a nap or turn on the TV in the middle of your work.
Have an Organised Storage Solution
One typical problem for e-commerce entrepreneurs, especially for those who sell items online, is proper storage. It is not unusual to find numerous boxes scattered around that are overloaded with items. If you are only selling small or very few items, this can be seen as advantageous because you won't need to travel to a storage facility to fulfill orders or ship your products.
But while you might think that you're saving money by storing these boxes in your office, it can actually be problematic in the long run. Having the boxes clutter your workspace can be distracting, not only for you but for other people like staff members or clients coming to the office. Clutter has been shown to negatively affect work performance so it is better to find a separate space where your products can be stored properly.
If space is an issue, you can also look at outsourcing storage and delivery. This way, you don't have to worry about this part of the sales process and you can just focus on scaling up your business.
Popular selling platforms already offer complete fulfillment services so you can have your products stored in their warehouses and they can take care of the logistics process including packing and shipping. Just make sure that you use inventory management techniques to guarantee that you are still in control of your stock and can adjust your sales strategy accordingly.
Be well connected
In order for your business to succeed, you need to ensure that you can be found online, you can easily be reached and you're also protected from risks.
A fast and reliable internet line
In the e-commerce industry, a fast and reliable internet connection is essential. While this may sound obvious to a lot of people, many entrepreneurs still do not realize that paying extra to have their own secure internet line is a good investment.
Relying on free or shared Wi-Fi can pose a lot of challenges because you cannot really control the speed of the connection. This can be tricky especially if you have an important transaction or you need to respond to an urgent request. This usually happens to entrepreneurs who work in coffee shops or in co-working spaces. In this case, getting your own pocket-Wi-Fi can be convenient.
However, if you are already considering a dedicated space, a fixed internet line may be more cost-effective and also more secure. This is especially important if you process online transactions so the risks of being hacked can be lower. Additionally, getting a secure cloud storage solution can make your life much easier.
Employ automation tools
Customers nowadays can be very demanding and they often expect to get the answers they need ASAP. If you are a one-man team, it can be difficult to be online 24/7 so you have to work smartly in order to maximize your available time.
One solution is to employ automation tools that can enable you to work faster and complete your tasks in an efficient way. Some examples of tasks you can automate includes:
Email Responses
Social Media Posts and Responses
Invoicing
Data Backups and System Checks
Monthly Reports
While some of these tasks don't seem too time-consuming, when you add up all the effort and time involved, you will realize that they can actually free up a big chunk in your schedule, allowing you to focus on other tasks that require your personal touch.
A separate work phone
While emailing and online messaging may have overtaken the traditional phone conversation, it is still important to have a business number that you can use for speaking to suppliers and clients.
Get a separate number different from your personal one as this ensures that you don't mix up personal calls with business inquiries. Having a separate work line also means you can switch it to voicemail after working hours to avoid receiving work-related phone calls in the middle of the night.
Make space for success
Where your work impacts your productivity so it's important to make sure that you situate yourself in an environment where you are comfortable and at ease. Applying these techniques can help you become more efficient and more focused on achieving your goals.
Author bio
Nathan is a business advisor and business writer at Biznas. He has helped many clients solve their business problems and now imparts his advisory knowledge onto others to help them improve their businesses too.
Adzis helps e-commerce businesses to succeed by automating the process of adding content to their online stores