eCommerce Product Description Generator
Easy, unique & original product description generator for e-commerce, eClassifieds, real estate/tour portals and deal/product aggregator sites.
How it Works
DFY – Done for you :
You email us the product list
Our team will generate the descriptions
Our subject matter experts will proofread the descriptions
We will email back the completed catalog ready to upload in the format supported by your store.
You can also ask our team to upload the catalog for you for free in case you are busy.
DIY – Do it yourself
You can start using the app by entering your store URL and email address.
You can publish it to the store directly. Watch how it works video to know more – https://www.youtube.com/watch?v=NORJe5ga7cY
Check the use case below to see what AdZis- Product Description Generator can do for your online store.
USE CASE: Why you need AdZis – Product Description Generator?
We assess the wasted potential of your online store in this video and discuss the possible ways to fix that
Scale your internet business with easy, unique and original product descriptions at an affordable cost. Product descriptions generated by the AdZis NLG Engine will be proofread by experts in the respective industry for mistakes, relevance, and quality.
Features
Reliable Results: Product descriptions will be proofread by subject matter experts.
Smooth Process / Technical Support: We do the work for you. All you have to do is

(1) email us the catalog and upload the catalog back after completion
or
(2) create a staff account for our team to do the work for you.

Guaranteed Quality: Not satisfied? You get 2-3 free revisions.
We are Startup/SMB friendly: We work mostly with startups and SMBs. The size of your business doesn't matter. You get our complete attention.
Check the infographics below to find how bringing AdZis into small businesses is going to change future businesses: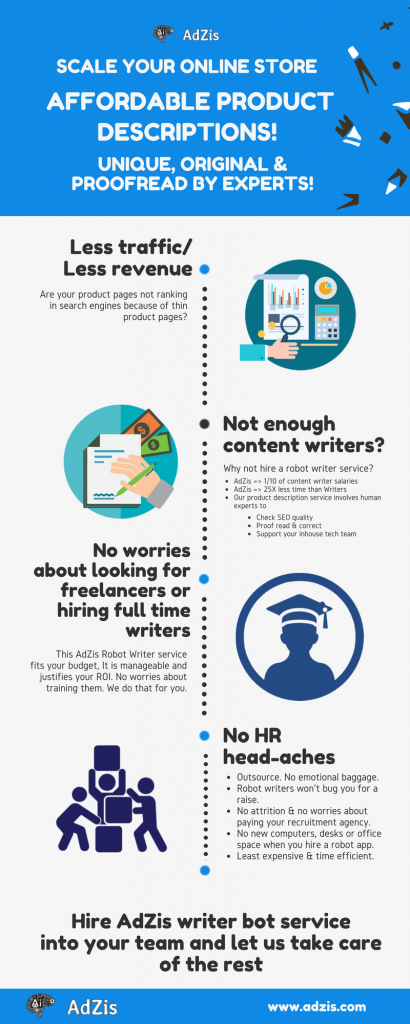 Auto-generate product descriptions to rank high in search engines for more keywords. Add enough content to your pages using this online product description writing tool and get more traffic to your online store. Try AdZis.
You have three options to choose from: