Having a brand-new website can be extremely thrilling for marketers as it is a chance for re-engaging customers by giving them an all-new experience. According to https://www.inc.com, on average websites undergo redesign every 18-24 months to keep the excitement alive. However, it is quite common for the excitement to turn into chaos soon after as you realize that the new design despite being visually appealing is not experiencing the same volume of traffic as before. Below, you can get to know about the importance of website redesign SEO and how to do it right.
The reason, usually, is lack of search engine optimization as in the eagerness to build a new site; the SEO of the earlier version has been lost.
The Impact of Website Redesign on SEO
If the website redesign project does not take into account the existing SEO, it can easily result in a significant loss of traffic and sales. Conversely, a new design can result in an increase of both due to better customer appeal combined with the existing SEO advantages. It is important to appreciate that even the well-designed websites will not bring in the traffic unless they are optimized for search engine discoverability.
If you do not take care to retain the SEO of the earlier version of the website, the website redesign will come across as a completely new website that has no SEO value from the perspective of both users and search engines. This invariably leads to the ranking dropping that results in loss of website traffic, lead generation, and ultimately, sales. Including SEO in your site redesign can add to the user experience and boost your rankings.
While engaging in website redesign SEO you need to ensure that your ROI on the redesign exercise is better and you have a readymade launch pad for commercial success. Since a website redesign can cost a few thousand dollars, you would want the highest possible ROI – a redesigned website that preserves the existing SEO will help you to achieve that better. However, for the best ROI, investment in SEO will need to extend itself to beyond just the website and embrace off-page optimizations that can help you to stay at the top of the page rankings.
How to Preserve Your SEO Even as You Undertake Website Redesign?
Establish the information architecture and sitemap: The best way of getting your website redesign off to a fast start is to compile the web pages and the content of the current site so that you can figure out what content needs to be added, what can be refreshed, and what can be archived. Essentially, you should take a hard look at the purpose of your website and the content layout. This is necessary so that users can navigate through them intuitively and the search engines can crawl and index the contents easily for better discoverability.
Establishing the information architecture and site map of the contents of the new website is a vital step in the redesign process. This is an opportunity for organizing the site and the content in a better way so that it gives a better user experience. After the information architecture has been established, the next logical step is outlining the sitemap. The sitemap is integral to both users and search engines understanding the location of contents better so that they can more easily navigate to it.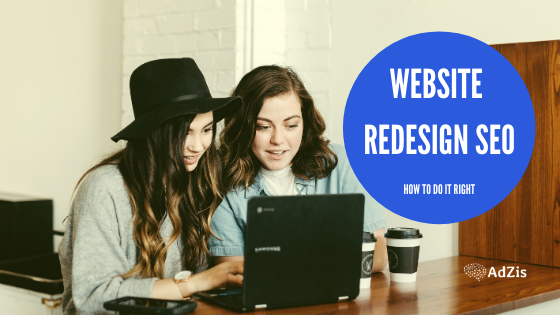 Compile website on-page optimizations: Your existing content needs to be audited from the point of SEO. If the content has already been optimized in the earlier version of the website, the content in all likelihood will contain many valuable keywords and phrases besides backlinks with high domain authority. Compiling this information in a single document will help you to make sure that they are not being missed out in the website redesign and the important and the high-traffic pages can be easily located in the information architecture of the redesigned website.
You need to be on the lookout for optimization opportunities while you are compiling auditing the website content. For example, if you discover that, you have images that do not have the necessary alt tags; you can make it a part of the website redesign exercise that will add to the volume of the traffic.
Ensure you use 301 redirects to point to relocated content: Website redesigns can play havoc with SEO because search engines may no longer be able to find the information it had earlier crawled and indexed. If you have taken on a new domain name, you need to use redirects to inform the search engines of the website's new location. Even if you have not taken on a new domain name, you will need to use 301 redirects when you are updating the information architecture of the website, especially when you have shifted the contents of one page to another.
For a large site, this exercise can be quite overwhelming so it is best handled by creating a document to map the necessary redirects. By doing so you will ensure that you do not end by missing on a few redirects or make mistakes while redirecting.
Backup your site: while it is very easy to forget about it, you need to keep in mind that site backups are very important when a website redesign is being undertaken. For example, if you forget to execute a page redirect, you can refer to the backup. Starting the redesign by taking a site backup is perhaps the most sensible thing to do.
Submit site URL/sitemap in XML: Submitting the XML site map to Google and other search engines is the easiest and fastest way of getting your site indexed. Monitor the performance metrics after the site launch and you will likely witness a temporary drop in traffic as well as rankings. However, this is a good chance for you to see if your site is encountering any crawl errors or suffering from any broken links.
Conclusion
A website redesign is a very good opportunity to start afresh the continuing battle for traffic and customer engagement. The exercise can act to increase the aesthetic appeal of the website as well as the user experience, however, you need to take care that you do not lose out on the SEO of the earlier version and suffer a drop in page rankings and organic traffic volume.
When you redesign your website for better SEO one of the important elements to focus on is the information and text on your website. The content on your website, plays a major role in ranking your website and driving sales.

But with AdZis you can generate content according to the niche of your website in the form of blogs, videos, descriptions etc. These contents are generated through AI in such a way that it focuses on SEO & helps you to drive better traffic.
Bio
Trudy is a Business Tech Analyst. He is very responsible for his job. He loves to share his knowledge and experience with his friends and colleagues.

Automate the process of adding product descriptions to your e-commerce store. Introducing AdZis – An AI-Powered E-Commerce Content Engine. Bring in the power of multi-channel marketing to your e-commerce store without a team. Adzis AI content engine can create videos, social posts, banners, writeups, SEO meta tags, product descriptions and everything needed for marketing your e-commerce business online. Adzis integrates with Woocommerce, Shopify and many other e-commerce platforms to bring you the power of one-click content for all your marketing channels.