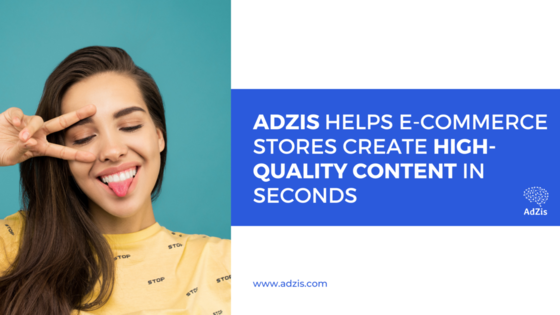 Are you sure that your eCommerce website is effectively driving sales?
Do you think you are at par with your competitors in the market?
Well, if you think your website is not driving in as much audience as you hoped it would, then it might be time for you to reorganize your content.  
Creating high-quality content is the key to bringing organic traffic to your website. Whether it is about using the right keywords to drive sales or implementing new marketing strategies, there is much to work on. Coming up with the right kind of content can do wonders in elevating your sales! 
AdZis is your one-stop destination for creating the perfect content for your eCommerce website. Founded in 2018, AdZis has worked to satisfy the needs of its multifaceted customers over time.
Generating your product descriptions, videos, and social media posts, to even creating intuitive blog posts and meta tags by using Artificial Intelligence Technology.
With the help of AdZis, creating high-quality content for your eCommerce website will now become a piece of cake! Here's how AdZis can help you:
Creation of independent blog posts 
Setting up your independent blog has now become easier than ever! It is a fairly inexpensive option that any eCommerce business can opt for these days. While eCommerce ventures can hire a part-time or full-time content writer to work on blog posts, they can also rely on AdZis to finish their work on time.  
Promotion of your eCommerce business blog across various channels is also vital for you to look into. Research shows that approximately 60% of customers go through blogs before finally making a purchase. So, when you start working on impactful content for your eCommerce website, you can grow your brand successfully. Check out AdZis now to find your way to high-quality content for your eCommerce business blog posts!
Working on perfect product descriptions 
Product descriptions are another vital aspect of your eCommerce website that you need to pay extra attention to. The descriptions of your products that you post on your eCommerce website need to fill up with useful information that will help your customers. Ensure that the product descriptions are detailed enough to showcase the various features of the given product before your customers.  
Apart from ensuring that your product descriptions are detailed enough for your customers, you must also ensure that they are enriched with keywords. Your customers are naturally going to search for your products with the help of a combination of keywords.
Hence, keyword-enriched product descriptions are a must for your products to pop up each time your customers do a relevant search.  
With the help of AdZis, you can now get engaging and useful product descriptions at your fingertips!
Keyword-enriched content that flows rather seamlessly, and connects to your customers, is what you can expect from AdZis.
Creation of impactful content for your social media accounts 
With time, social media platforms like Facebook and Instagram have become vital for businesses to spread their reach and bring in new customers. The impact of social media in increasing sales can be felt, especially with the growing reliance on smartphones rather than on laptops and desktops.  
Businesses have grown to realize the immense importance of using social media networking sites as intuitive ways to drive sales. However, to maintain and build your brand's reputation on social media, it is extremely vital to post content daily.
It is only when businesses post good quality, relevant and resourceful content on their social media feeds daily that the brand's credibility is increased.   
But if you are worried about coming up with good-quality and resourceful content to put up on the social media accounts of your eCommerce store, AdZis is here to help!
From creating attractive banners for your social media feed to creating and scheduling your social media posts, AdZis offers you every kind of assistance you may need!
Creation of Video Content 
Video content has certainly become a popular trend, especially amongst eCommerce stores. Social media platforms like Vimeo, Dailymotion and even your favorite YouTube have become informative sites for customers to flock to in search of good content.  
Often, when customers think about whether a product is useful or are figuring out ways to use it, they turn to videos. These video content, as posted on YouTube or other platforms, helps customers comprehensively understand the product in question. It is a known fact that when potential buyers see a product in action, they are more likely to discern its usage and even buy it.   
With the help of AdZis, coming up with useful and attractive video content for your eCommerce business is going to be easy. You can now generate immersive and engaging videos with just a click on AdZis!  

AdZis is the perfect destination for eCommerce businesses that are looking for ways to create impactful, engaging, and useful content for their viewers. So, go ahead and check out the amazing facilities that AdZis offers and revolutionize your content in no time!  

Meet the author
Charlotte Lin is a content creator at escaperoom.com. She's a passionate young woman, mother to an amazing nine-year-old, and an avid reader. Over the years, writing has helped her explore and understand the world as well as her own self. She loves to travel, meet new people, and spend quality time with her daughter. You can find her on LinkedIn.