Starting a marketplace business comes with lots of challenges and effort. To make your marketplace recognized and successful, you need to overcome a few challenges. You require equal parts of faith, enthusiasm, and unique business ideas to make your marketplace stand out of the ground.
Building a marketplace like Amazon, eBay and many more is quite easy these days. As you can easily get the marketplace solutions like Amazon clone, eBay clone, etc. You can easily buy these clone solutions from a reputed company and later customize them as per your needs. But the main challenge lies in the strategies to adopt once the marketplace is built.
So, in this article, I will be talking about a few challenges that are usually faced and how to overcome those problems in the marketplace. So, let's begin.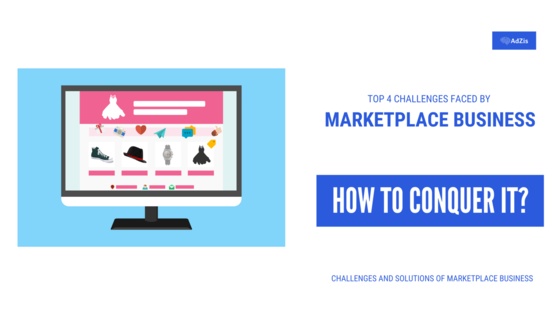 Challenges and Solutions of Marketplace Business
#1 Customer Service
In conventional stores, store owners and managers take care of almost everything that can give an enhanced experience to its users. A store owner exactly knows what will help them to make their store more popular. But when it comes to a marketplace, things are quite different. Here, being a marketplace owner, you are just a third party who is a mediator between the vendors and customers. Therefore, sometimes it may happen that buyers may get disappointed with the vendor's service. But rather than blaming the single vendor, the customer may blame the whole marketplace for a bad experience and that's where the main challenge lies.
Solution:
The best solution to this challenge is to keep communicating with your buyers. With that, even make some rules or points for the buyers and sellers as well. Whenever a buyer comes up with a problem, it is advisable that you being the owner of the marketplace set up a team that can solve the buyer's issue.
#2 Product Presentation
The product presentation in the online marketplace is quite different than that of the traditional store. In the online marketplace, though you're not the owner a perfect product presentation is what you need to take care of. Sometimes due to a bad product or service presentation, your platforms may lose the deal. And seeing no profit with your marketplace platform, vendors, as well as buyers, may stop using your platform. The buyer or seller may only stay on your platform if they find any benefit or get a good experience.
Solution:
The solution that you can apply to deal with this challenge is providing guidelines to the sellers in terms of the product listing. You can make some research on the product presentation thing and give it to your sellers. On the other hand, if your marketplace platform is about services, then you can hire professional photographers to take high-definition pictures if needed.

#3 Chicken & Egg Problem
It is one of the biggest challenges that is faced by most marketplaces. Many of us get confused about whom to bring on the platform first, that is buyers or sellers. And another thing here is that sometimes the marketplace faces a situation where a gap is observed between the buyers and sellers. Sometimes there are not enough buyers to buy the services or products and vice versa. This is very challenging and you need a solution to it to keep your marketplace in trend.
Solution:
The solution here lies in building a strong relationship with the buyers and sellers. Plan something in a way that both are satisfied to stay on your platform. The supply chain and demand both should be equally taken care of. This will never cause any issues for buyers and sellers.
#4 Trust & Data Security
Anyone of buyers or sellers having trust issues with your marketplace platform can lead to more problems. It is important for you to gain the trust of buyers and sellers both. Any scams from buyers or sellers on your marketplace platform will affect both users. Therefore, it is very challenging to avoid any such situation on your marketplace platform.
Solution:
The one solution over here is to add review & rating features on your platform. This will help you to gain the trust of the buyers and then see the review before buying the product or services. And it will even result in lesser scams as there will be a fear of negative reviews.
Get Ready To Build Your Own Marketplace
So, in a way, we can say that marketplaces are full of challenges, but coming up with the right solution for every challenge is the way you can make your marketplace stand out of the crowd. Build a feature-rich marketplace for your business, this will help you to attract more users to your platform.
Every startup comes with challenges, so just stay calm and try to find the best solutions for the problems you face in your marketplace business.
Author Bio
Mahil Jasani is the CEO of the aPurple. He is a technological nerd who loves writing about trending technologies. In spare time, you'll find him digging deep into new innovations and startups.

Optimize your product pages with the right set of content. Create videos for your Youtube channel, social posts with captions and banners for Instagram, Twitter and Facebook, and SEO tags for product pages, all using one tool. Try Adzis AI App now – https://app.adzis.com