Black Friday, Cyber Monday are right around the corner. People all around the world are getting ready to check out their shopping carts. We want to help you ease into the holiday season. So we have put together some mind-blowing deals that would help to kickstart your holiday shopping.
Always be wise in your purchasing decisions. Only buy what you believe will be a benefit to your business. 
Happy Shopping!! 🙂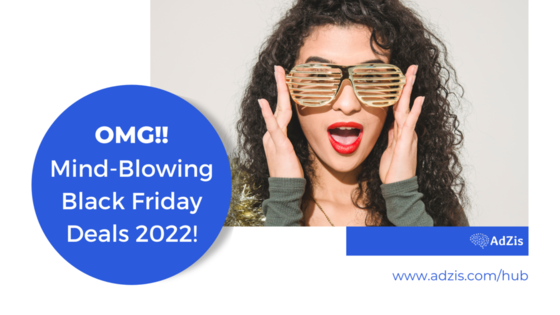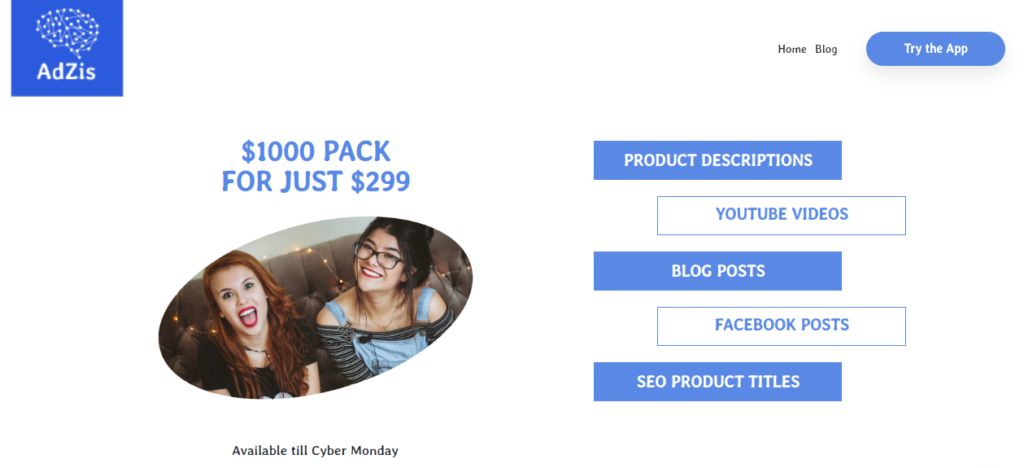 ADZIS AI CONTENT ENGINE
$1,000 worth of e-Commerce Content For Just $299 (70% Off)
Valid only till 28th Nov 2022
AdZis AI content engine generates high-quality product descriptions, blog post articles, social post creatives, videos/shorts, SEO titles. Online store owners never have to worry anymore when it comes to creating content. 5X store's search traffic. Save time & money. Quick & Simple!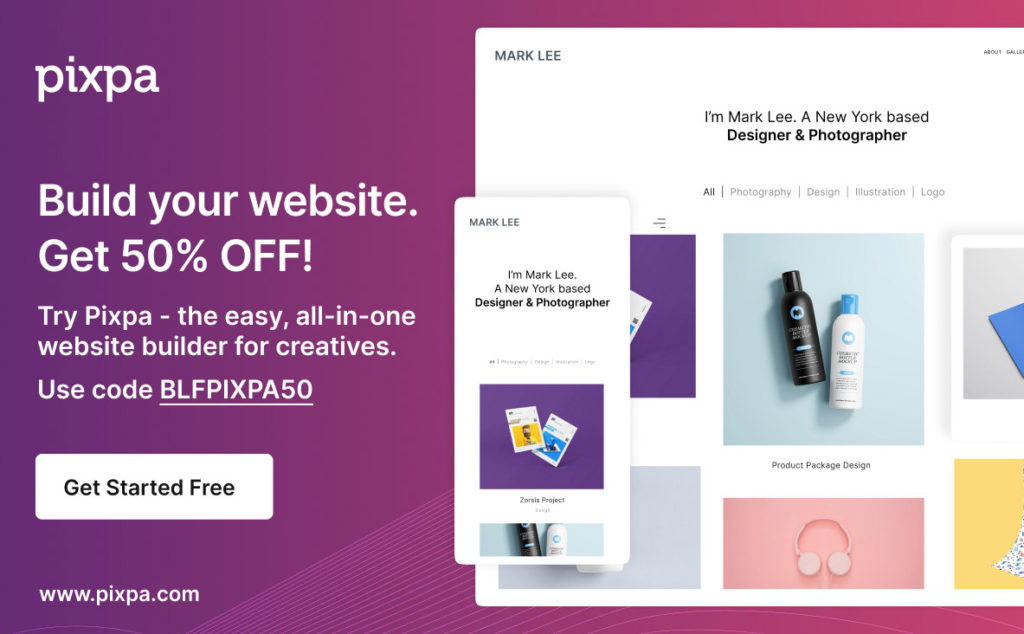 PIXPA
Avail 50% discount on 
annual plans
Use this promo code BLFPIXPA50
Nov 24 – Dec 31
Pixpa is an all-in-one no-code platform for creators and small businesses to create beautiful, professional websites complete with built-in online store, blog, and client galleries. Pixpa's versatile platform has everything you need to showcase your work, share ideas and sell your stuff online, without any coding knowledge.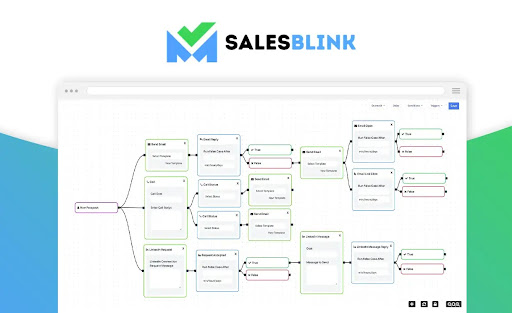 SALESBLINK
Get a Lifetime Deal at just $149
1st Nov – 31 Dec 2022
SalesBlink is a sales outreach automation suite using which you can search for prospects, put your cold outreach sequences on autopilot, maintain and manage pipelines and prospects. It is a full-stack cold outreach platform that can take you through prospecting to outreach to closing on full throttle. It is a fully-loaded package for automation of multi-channel cold outreach clubbed with generating leads and managing them.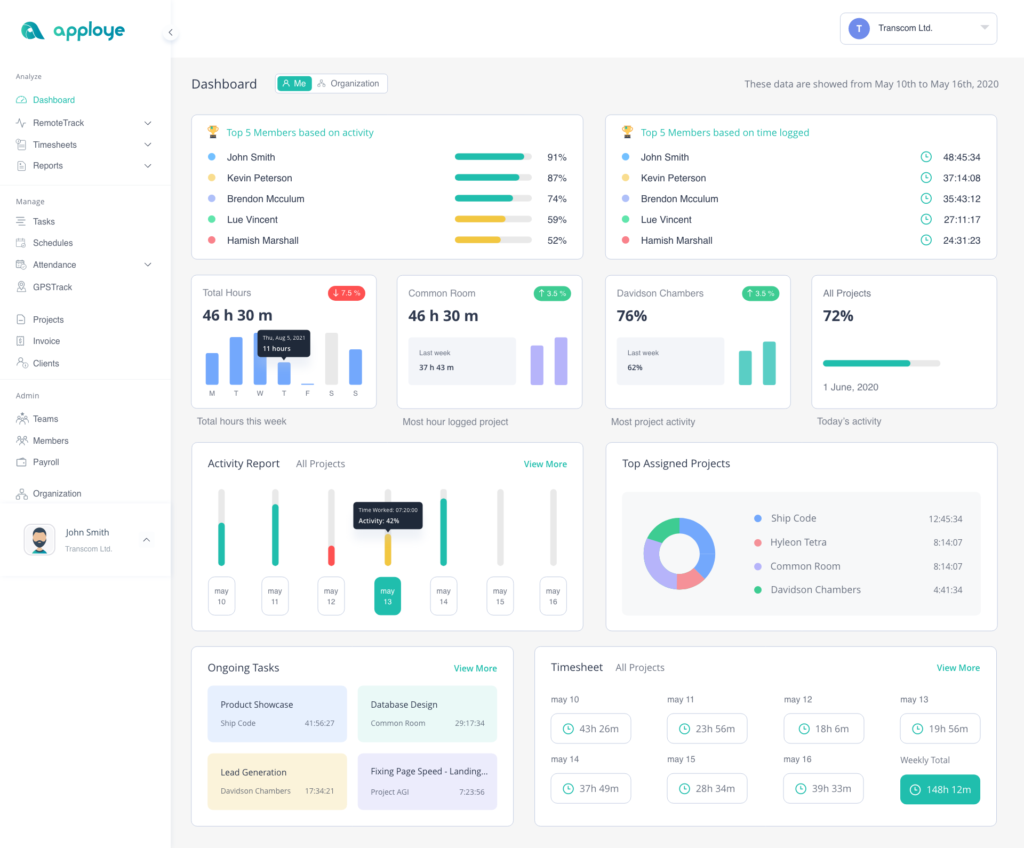 APPLOYE
15% off on all Apploye plans
28th November to 3rd December
Apploye is a straightforward time tracking and employee monitoring software. It has a simple interface that allows you to access the most advanced features. It can be used in your office, remote employee monitoring, and hybrid businesses.

BREADNBEYOND
Get up to 40% OFF for an ultimate explainer video!
Breadnbeyond is an award-winning explainer video company specializing in producing animated explainer videos. We create engaging animated explainer videos that help you introduce your brand, product, or service to the world – all from scratch, no template.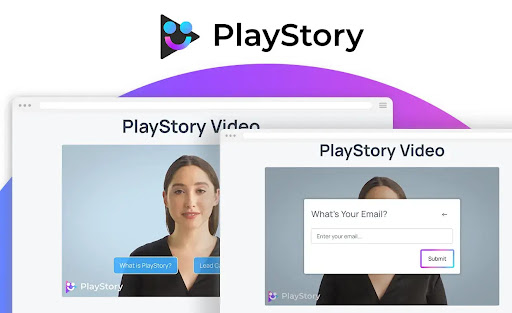 Playstory
Get a Lifetime Deal at just $19
1st Nov – 31 Dec 2022
PlayStory is a fully-loaded interactive video creation tool that helps increase viewer engagement. The tool is the best for marketers looking to create highly-converting videos. Sharing the video on social media and embedding it on your website or landing pages is possible with a few clicks.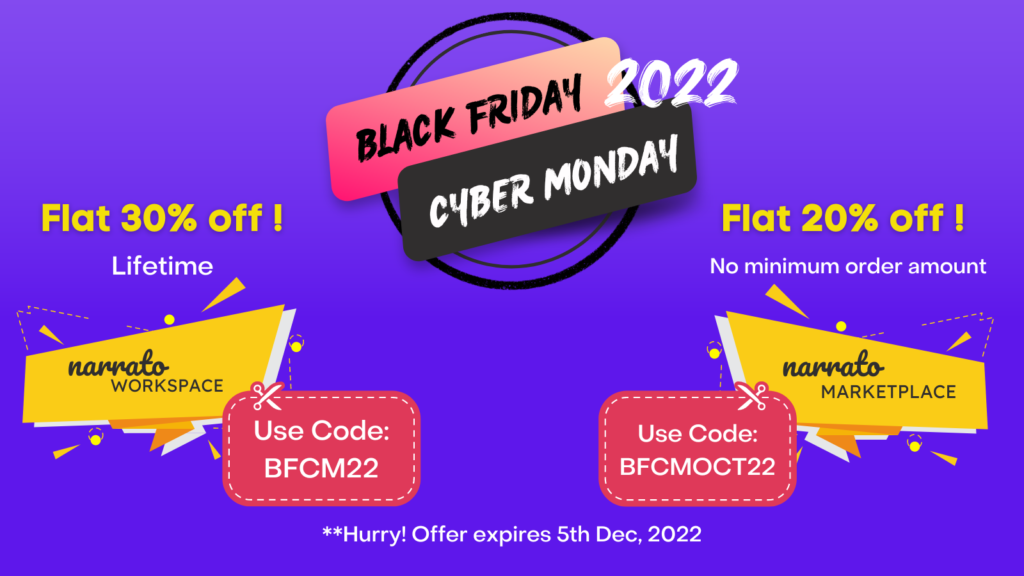 Narrato Workspace
Get flat 30% off Lifetime on any plan
Use Code: BFCM22
Till 5th December 2022
Narrato Workspace is an end-to-end content workflow management platform that helps you manage your entire content process and team in one place. The platform offers content planning tools like an SEO content brief generator, content calendars, and an AI topic generator. Narrato helps you create high-quality, search-optimized content with minimum effort.

Formidable Forms
Up to 65% off a yearly subscription
November 14th, 2022 – 30th, 2022
Formidable Forms is the most advanced form builder for WordPress! And, for a short time, you can get up to 65% off!
UUKI
50% off on the recurring plan
"BLACKFRIDAY30" to get 30% off
All in one community platform for creators and brands. Alternative for Circle.so, Tribe and Buddyboss.

Business Directory Plugin
Up to 65% off a yearly subscription
November 21st, 2022 – 29th, 2022
The Business Directory Plugin helps you build the directory of your dreams! And you can get up to 65% off for a short time!

AWP Classifieds
Up to 65% off a yearly subscription
November 21st, 2022 – 28th, 2022
Get directories on your website easily and quickly with AWP Classifieds! And you can get up to 65% off now!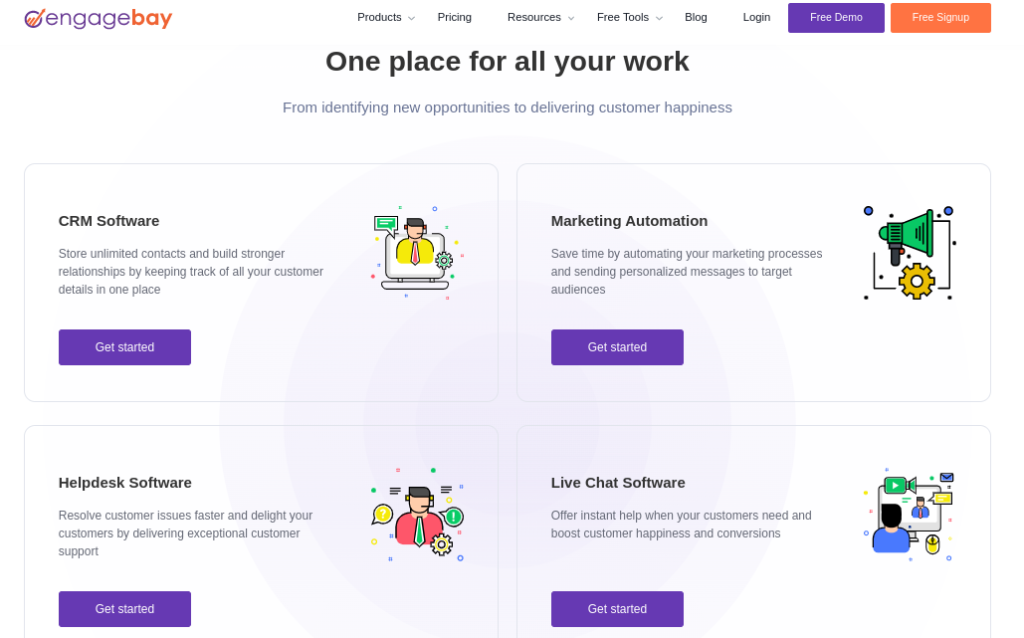 EngageBay
Get 40% off on first time purchase
Active from 14 November 2022
EngageBay is an integrated all-in-one marketing, sales and support platform with a free CRM built for startups and growing companies.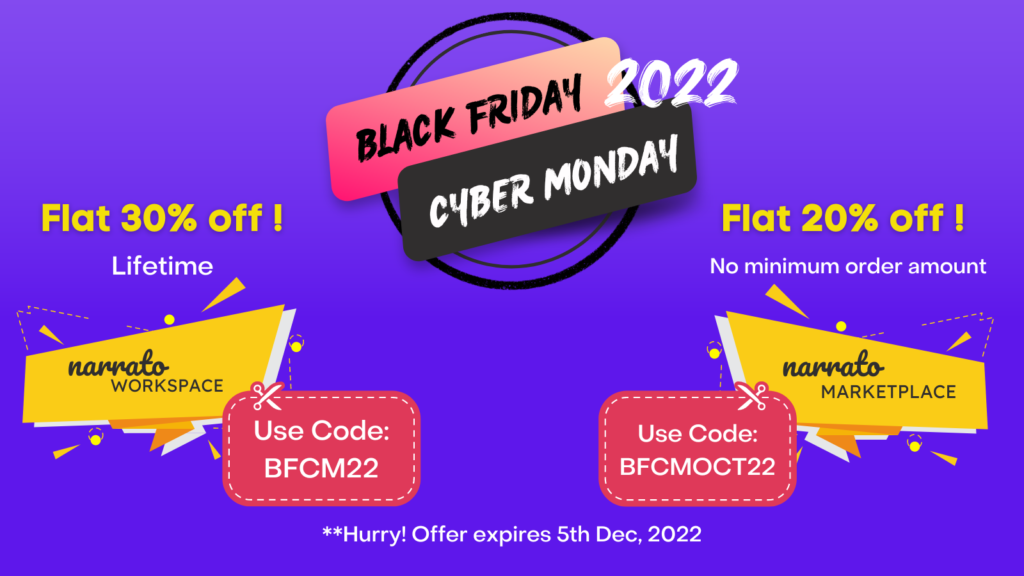 Narrato Marketplace
Get a flat 20% off with no minimum order amount!
Use Code: BFCMOCT22
Till 5th December 2022
Narrato Marketplace is a content marketplace that hosts thousands of quality vetted freelance writers. Your content order is automatically matched to the best writer on the platform and turnaround times are very fast.
Vadoo
Lifetime deal at 50% off on the recurring plan
"BLACKFRIDAY30" to get 30% off
Video hosting and marketing for creators and brands. Alternative to Vimeo.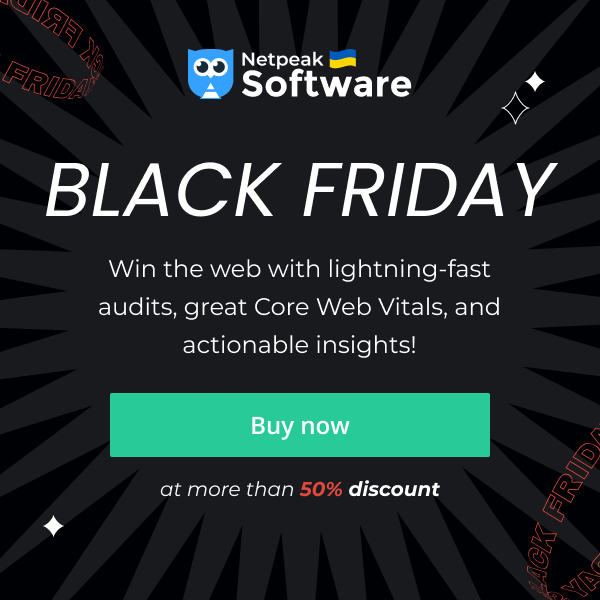 Netpeak Software
More Than 50% Discount
Valid until December 3rd 2022
Netpeak Software team launches the exclusive deal for the fastest site audits and Core Web Vitals checks! Tackle the errors on your website and win the web with the help of Netpeak Spider and Checker.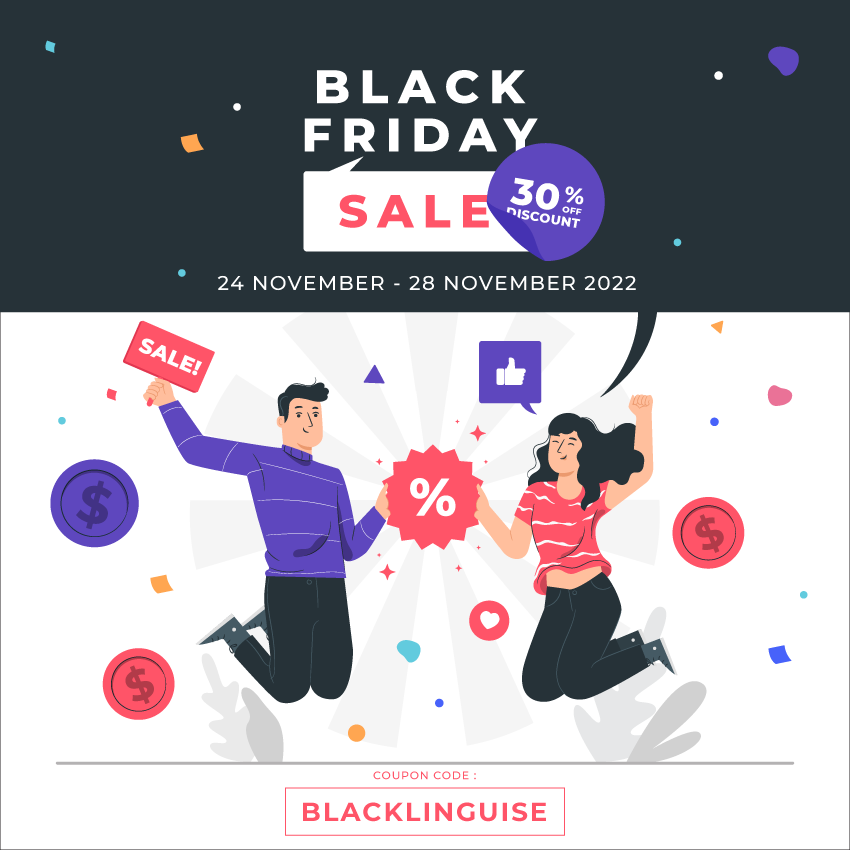 Linguise
30% OFF on all plans
Coupon Code: BLACKLINGUISE
24 to 28 November 2022
Linguise is an automatic neural translation service for websites that help you increase your traffic with instant translations in more than 80 languages. It comes with a WordPress plugin for full integration.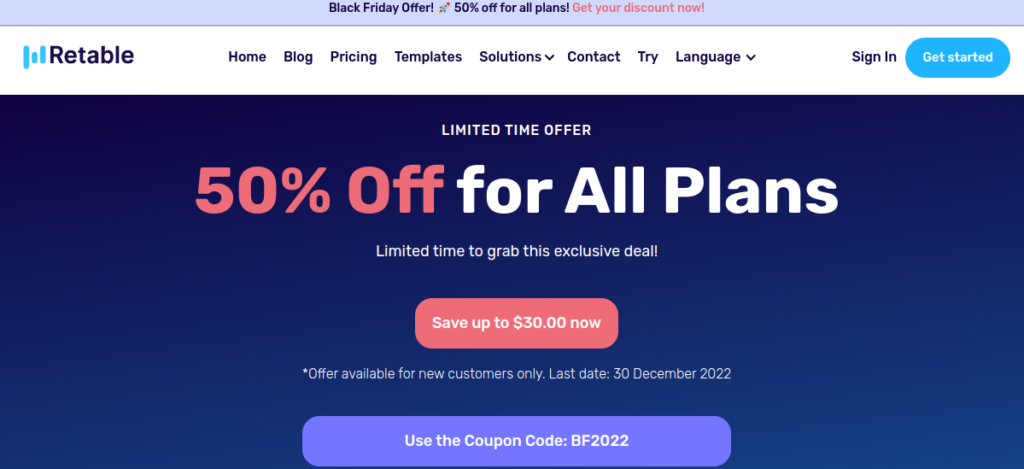 Retable
50% off the first purchase for all plans
Deal Code: BF2022
Last date: 31 December 2022
Retable is a smart relational database management solution to help you to organize your workflows, projects, teams and business operations. With a user-friendly spreadsheet-like UI, Retable offers you real-time collaboration and easy-to-use rich features to manage your projects and business workflows.