I attended a writer's meeting last week. It was more of a casual affair with some content writer friends gathered to enjoy the rain over some hot pakoras and tea. From Euro Cup to Brexit, we happily shared our views on all the hot topics. Soon, the discussion shifted to us, the content writers. Many of us took content writing to live our dream of becoming a writer. Where do we stand now? Have we achieved that dream? Are we happy with our lives? It seemed that many of us were disillusioned with the life we are living and needed something to get out of the rut.
Earning money vs. Self-Satisfaction – Dilemma of every content writer
For most of us, it started with a dream – a dream to do what we loved most, a dream to work on our own terms, and a dream to allow life to soar high. However, soon we found the ugly truth about life. Money is important. You need money to feed yourself, pay your electric bills, and enjoy the little luxuries of life. We started taking up projects that promised good payments, we started working for clients who gave a steady flow of projects no matter how boring they were, and slowly got sucked up in the process and the dream of becoming a great writer, of publishing our own book or starting a blog became distant.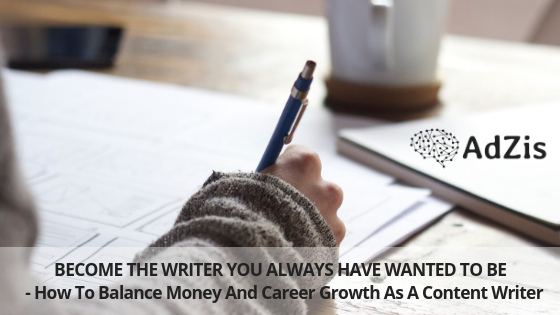 We realized that it was hard to say no to money and work on things like developing a blog that didn't fetch any money in the short run. What about self-satisfaction? What about the dream of building our own brand? We traded it off for a few more notes.
In the end, we lament that we have become sinners who continue to spin articles for others. Our creativity decreases, we can't think of writing fresh or innovative posts for ourselves and our dreams die a slow death. Is this your reality too? Do you often think of the dreams that made you a content writer but abandoned you as you couldn't remain dedicated to them? If yes, this post is for you.
Accept the reality
We write not only because we love to but because we need money. That's the reality and we cannot deny that. If it hurts you to think only of money and sacrifice your dreams for that, think of all those artists who take up menial jobs to keep their homes running.
Having said this, it's time to contemplate ways to balance career growth with earning money. I would want you to introspect on this and go back to the vision you once had set for yourself. Did you want to write fiction or non-fiction? Did you plan to become a popular blogger? If yes, what was the niche that appealed to you?
Now you need to validate whether that vision still holds true. It often happens that with time our goals change. So, set new goals or renew the old ones, whichever suits you.
Write down your goals
Having the goals in your head is not enough. You need to write them down. Create a success journal and write down your career goals and financial targets. Segregate them into long-term, short-term and daily goals.
If your ultimate dream is to become a blogger, your long-term goal would be to create a successful blog. With how many followers? Set a number. Say 10,000. Fine, your short-term goals would be designing your blog, posting blogs in it, and sharing them on social media.
Now, jot down your financial goals. What is the earning target you have set for yourself? How much should you save by the end of the say, 10 years? Write them down too.
Create an action plan including both career goals and financial targets. It is time for some hardcore action. You know what you want to be. You also know the amount of money you need for daily expenses and future savings. Now create your daily action plan incorporating all these. You may want to post 1-2 blogs per week. Set aside 30 minutes each day for that. The rest of the time you can devote to writing for your clients. That way, your earning potential would remain intact while you get a chance to work on your career.
Try to maximize your time. Limit the use of social media. Keep reminding yourself of the goals you have set for yourself. Things may get stressful. Refer to my blog https://adzis.com/hub/relieve-stress-interesting-tips-stressed-content-writer/ to relieve stress.
Maintain a daily tracker to track your progress. Celebrate every success. Reward yourself for the hard work you are putting in. You may need tips and suggestions to become a better writer. https://adzis.com/hub/want-to-be-a-better-content-writer-here-are-the-tips-that-only-an-experienced-writer-can-give-you/may help in this.
Learn to say no to things that do not take you closer to your dreams. Charge yourself up to realize your dreams without compromising your living standard.
Share your success with your friends. Inspire others to do the same. Do not forget to leave us a word about how it feels to see your career advancing in the right direction.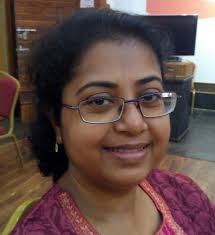 About the author – Koyel Majumder – A writer with an eye for perfection. She is a freelance content writer from Mumbai, India with over 6 years of experience in writing web content, blogs, and articles. When she is not writing, she will be reading for ideas that would help her to remain up to date. In short, she lives and dreams words and finds this writer's world fascinating.
Introducing AdZis App – An AI-Powered Ecommerce Content Engine That Can Generate Descriptions For Hundreds Of Products In A Blink Of An Eye

You will need content for all your marketing needs. But creating content requires time, resources and effort. Introducing Adzis AI Content Generator, which can create videos for your Youtube channel, social posts for Instagram, Facebook, twitter, etc and does copywriting for your e-commerce websites.