"Good design is good business," claimed by Thomas J Watson, the second president of IBM, in 1973. According to him, a good design can substantially aid in making a good product reach its full potential. Now, we might have lost him, but the significance of his statement which he made long ago is still the same.
The only thing which has changed is the definition of good design. Earlier, it was all about creating a seamless interface, easy navigation, and making digital transactions hassle-free for customers. But this is not apt in the contemporary market. Now, entrepreneurs focus on creating an app with an intuitive design that is highly responsive and interactive in nature.
Simply put, people feel natural and innate when interacting with another human being in comparison to technological tools. This entire perspective has transformed the realm of UX design and now the focus has been shifted to make it as conversational as possible.
Basically, this is all about preventing customers from navigating complicated IVRs and allow them to interact with virtual assistants or chatbots in order to give them a feeling as if they are texting or speaking with another human being.
According to Lauren Pietersen who is the director of products & partnerships at HelloWorld, conversational experience is beyond keeping a track of orders for a customer or addressing him with his first name in the email but it adds a connection of human layer between the brand and the customer.
It's a daunting task to create such an experience. Yes, there is a plethora of hardware and software in the market to facilitate the development of a conversational UX such as chat and voice box technology and tools. But in reality, this experience has to mimic a conversation between humans. And, this isn't easy at all. Let's understand how to create a great conversational experience for your digital products.
First of all, you need to incorporate AI, machine learning, natural language processing, and automated speech recognition in the right manner and at the right road-mapping stage to enhance the efficiency of the virtual assistant. You need to find programmers who can train the AI-powered tool to easily understand complex words and phrases. Also, it should have the potential to pull out the customer's purpose even form complex sentences.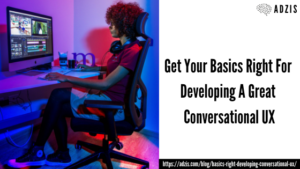 2. Cherry-Pick The Correct Channel
It's not a good idea to implement conversational experience for each and every channel through which your customers contact your brand. But the right way is to cherry-pick the channel where it can provide a great experience by analyzing your available company's resources and the type of business.
Only because there are several communication channels, you don't have to support them all. Choosing the right channel to support is a daunting task but it can be done efficiently by considering your own specific requirements and limitations. For example, SMS can be the right communication channel for an online retailer to increase sales but it can't serve the purpose of a software-as-a-service (SaaS) company.
3. It Should Not Be An Open For All Facility
Dave Bruno, managing director at unified commerce platform provider Aptos, raised an opinion that when developing a conversational experience keep in mind that it should not be a platform where customers can chit chat about any and everything. But it should be cautiously built to act in response to extremely specific aspects of the customer journey.
Considering the impact smart speakers and digital assistants have on the contemporary market it can be concluded that the technology is yet immature and there's a lot to be done in order to reach its fullest potential. Right now, unfortunately, the majority of these tools are making difficult interactions more annoying and incompetent.
The solution to this problem can be found in the statement made by Brian Bagdasarian, head of the conversational growth strategy at HubSpot. According to him, you should craft the narrative first and create a bot second. In the market, you can find numerous platforms that allow you to build the technical side of a chatbot but what's more important is to take your own time and plan the conversational narrative in a precise manner.
In this process, one must have the knack to identify spots where certain questions can be raised. Also, it's a good idea to pre-plan the way in which these questions will be answered and determining how to handle common human errors such as typos.
Till now only AI is believed to have the potential to incorporate modern customization and personalization tools in order to create the innate, free-flowing to and fro interaction between company and customer as expected in a conversational UX. This is the reason why AI and ML are used in multiple chat channels such as SMS, chatbots, automation and Messenger, web chat, etc.
But remember, it's not enough to develop such a UX and forget it because it's a dynamic application that needs to be monitored regularly. Hence, you should do performance analysis once the solution is live and make necessary changes in accordance with the feedback in order to make it suitable for meeting specific customer requirements.
Author Bio:
Anubhuti Shrivastava is a content crafter at Arkenea and Benchpoint. She is passionate about writing articles on topics related to design and the software development industry.
Product Description Generator: A "Do-It-Yourself" app that is both easy to use and intelligent


Automate the process of adding product descriptions to your e-commerce store. Introducing AdZis – An AI-Powered E-Commerce Content Engine. Bring in the power of multi-channel marketing to your e-commerce store without a team. Adzis AI content engine can create videos, social posts, banners, writeups, SEO meta tags, product descriptions and everything needed for marketing your e-commerce business online. Adzis integrates with Woocommerce, Shopify and many other e-commerce platforms to bring you the power of one-click content for all your marketing channels.