Introduction
Opening an eCommerce store and managing it are two very different things. The competition is tough and it's hard to stay at the top. Many business owners feel the need to up their game because of the low traffic and decreasing sales.
To increase sales in your online store, you need to make sure that you are reaching out to the right audience, at the right time, and with the right strategy. Customer satisfaction should be the top-most priority for any business that wants to expand and grow its market.
We are going to tell you 15 tried and tested basic tips that can help increase sales on your eCommerce store and attract potential new customers as well. Let's get started!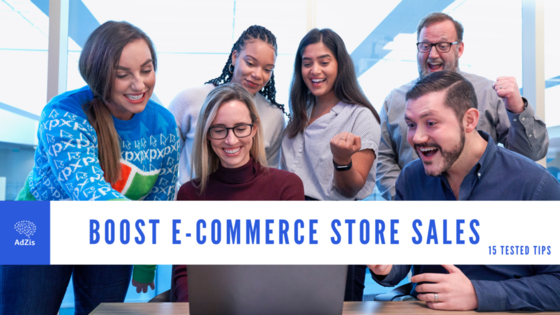 1. Website Design and Layout
The first thing a customer notices is the design of your website. First impressions are lasting and a unique and stylish website is sure to get customers attracted. The layout of the website is also an important factor. If customers can find their products easily, move back and forth between pages without a hassle, and overall have a seamless experience, they are going to come back for more. Having a user-friendly and updated website is the first step to interest customers in your products.
2. Email Marketing
Email marketing is the best way to improve your customer relationship. Email marketing increases ROI 4x higher than any other form of marketing. With the help of personalized emails, you can stay in contact with your customers and brief them about your brand and products. You can also send automated emails on different occasions, such as welcome email, order confirmation, order tracking, cart recovery, coupons, discounts, new stock, review, etc.
Email marketing is a low-cost and effective method to increase sales and drive revenue on your business website.
3. Up-selling and Cross-selling
Upselling and cross-selling are old and trusted strategies to increase sales and improve customer satisfaction. By upselling, you can show a superior version of the product selected by the customer, encouraging them to spend more for better quality. Whereas, in cross-selling, you can suggest related products to the ones in the cart.
Upselling increases revenue by 30% and is considered more affordable than acquiring a new customer. This is also a great way to increase customer loyalty and lifetime value.
4. Social Media Marketing
Social media platforms like Facebook, Twitter, Pinterest, and Instagram are advantageous for promoting and marketing your products. Around 40% of consumers use Facebook for researching a particular product or brand. Moreover, social media marketing alone drives around 70% of sales. With such great statistics, there is no reason for you to not join this bandwagon.
You can showcase your products through images, videos, etc. You can also interact with customers on a personal level.
5. Segmenting Customers
To run your business successfully, you need to better understand your customers' needs. Segmenting your customers means tagging them based on their interests, past purchases, abandoned carts, etc. This helps in sending personalized emails and messages to your customers filled with their favorite products, enticing them to buy. You can collect information in the form of reviews and quizzes as well.
Personalizing the shopping experience is an effective way to increase sales. It also helps in collecting smarter data about each customer and enhancing your marketing campaign based on the results.
6. Customer Support
Around 50% of sales are lost due to the unavailability of customer support. Customers are more likely to buy when they can talk to a representative to acquire more information regarding a product or service. Businesses with live chat and call options receive heavier traffic due to the 24//7 service available. This is also the reason why people prefer social media pages to interact with businesses.
Enabling chatbots, live calls, and email support will help you understand what customers' common questions are and how best to approach them.
7. Promotional Marketing/Discounts
Promotional marketing refers to advertising, sales, coupons, discounts, exhibitions, and much more. It allows you to target a relative audience and invite them to your website.
Customers love an unexpected offer or discount on their emails. Through promotional marketing, you can introduce BOGO deals, gift cards, special offers, coupons, etc to encourage purchasing. It is also a great way to showcase new products in stock and get rid of off-season items.
For promotional marketing to work, you need to introduce these offers at the right time and through a popular platform, such as for an upcoming holiday festival discount advertised on emails or social media.
8. Shipping Details
One of the most major reasons why customers abandon their carts at the last moment is due to the additional shipping charges notified at the end. To reduce abandoned carts, you need to notify your customers from the start about the shipping charges.
You can also offer them a deal for free shipping based on the minimum items or spend limit. Free shipping affects around 60% of the sales into completion. Hiding additional charges leaves the customers disappointed and most likely to leave.
9. Call-to-Action Button
Call-to-Action buttons are an effective way to clear the purpose of the page and motivate your customers to do the same. For instance, a page showcasing all products should have a "Add to Cart" or "Buy Now" button at the bottom of each product.
Similarly, checkout, learn more, show deals, etc are some of the best Call-to-Action buttons and have reduced confusion and decision making. You can also design attractive and unique Call-to-Action buttons with the help of various plugins.
10. Subscription Program
Subscription programs are beneficial for both the business owners and customers. For owners, it offers recurring payments and a predictable revenue stream. Whereas customers enjoy a subscription-based payment system. It also helps in retaining loyal customers and attracting new customers.
With the help of subscription programs, you can upsell and cross-sell items. It also increases lifetime value through content dripping, which is the timely release of content so your customers keep coming back for more.
11. Easy Checkout Process
One of the most tedious tasks of online shopping is checkout. When customers have to fill in extensive information and go through many pages, they would like to be informed beforehand. Optimizing your checkout page is a great way to increase sales and reduce cart abandonment.
You can remove multiple pages and reduce all information to a single page, show shipping charges, provide product review along with the total at the end, and the time of delivery. The easier the checkout process, the more chances of customers making a sale.
12. Build Trust with Security
Customers are most anxious about their confidential information being misused when using online stores. This is also an overlooked factor by online website owners and could lead to a decrease in sales.
Thus, enhancing security with the help of plugins such as 2-Factor authentication, PCI compliance, and SSL certificates helps in protecting customers' credit card information and can boost up your customers' confidence. Showcasing these badges on your website is also a good way to increase trust.
13. Retargeting
To increase conversion rates, you have to employ a retargeting or remarketing strategy. If the consumer is not impressed on the first try, don't worry, by sending personalized emails and running advertisements on social media pages they frequently access, you can easily convert them.
By remarketing strategy, you can increase sales, reach out to potentially interested customers, and market your brand. This strategy causes around 25% of the targeted individuals to complete their order. That's a great sum!
14. Mobile Responsive
More than 60% of the visitors on your website are viewing through their mobile devices. Your website must be mobile optimized and responsive. The advantage of mobile responsiveness or apps is due to faster page loads, convenience, and an easier checkout process.
Having a user-friendly mobile interface could greatly improve the customers' shopping experience and therefore increase sales.
15. Statistical Analysis
It is quite frustrating to be unaware if your strategies are working or not. You can easily eradicate this problem by installing statistical analysis plugins such as Google Analytics. This plugin provides detailed reports on the activity on your site. You can also find out the areas of technical issues and remove them.
These reports are a great way to base further strategies on and what you can do to improve them.
Final Words
Increasing sales and traffic on your online store will be easier once you apply the mentioned tips and tricks. The online community is huge and it's hard to mark your presence in the masses. But if you market your brand strategically, you will be sure to achieve results.
Providing coupons, discounts, customer support, and sending personalized emails, etc to your customers is a good way to start rebranding your business and concludes in increased sales, revenue, and traffic.
All efforts should be driven towards customer satisfaction and thus it is important to take a usability test after employing a new technique. This ensures that your site is user-friendly, easy to navigate, and optimized.
Managing an e-commerce store and boosting your sales when there's increasing competition is very hard. You cannot grow your business unless you have good content on your websites and social media.

With AdZis Content Engine you can generate any form of content according to your needs. These contents are proofread & SEO friendly for you to make better results.
Author's Bio
Xaviera Khalid is the lead content writer at WooKeeper.com which is a platform that strives to produce resourceful information regarding WooCommerce and its various plugins, extensions, and services. Xaviera keeps a keen eye on the WordPress and WooCommerce eco-system and focuses on factual writing.
Running an e-commerce business is a tough challenge. Online sales make the eCommerce world go round. If your store is not performing well, then it means you are sailing in troubled water. Compelling product descriptions can make or break a sale as it describes a product's value proposition to potential customers. Have trouble getting more customers and increasing your revenue? Then Adzis is the right call to get things done for you. Our AI-based Product Description Generator creates easily leveraging, effective and fast content, which can drive more traffic and skyrocket your sale. You can check our site for more details: https://app.adzis.com/